Graduation Card Messages. What to Write in a Graduation Card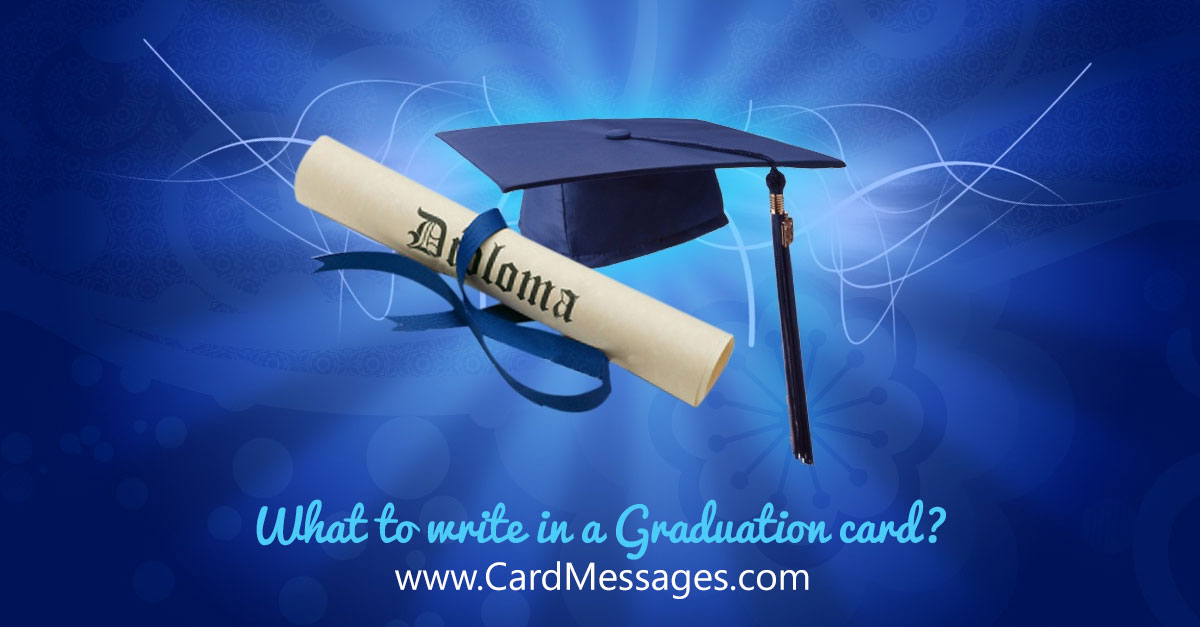 Graduation from kindergarten, grade school, high school, college, or technical school is a huge accomplishment for your graduate. It's important to recognize this terrific event with graduation wishes in a personalized graduation card. The graduation messages you write will make a positive impact on the young graduate and help boost their confidence. Any special graduation quotes you add to your graduation messages can help make the graduate smile and feel thankful to know you. So check out the messages and quotes here and send them a card today. We here at Card Messages wish you all the very best!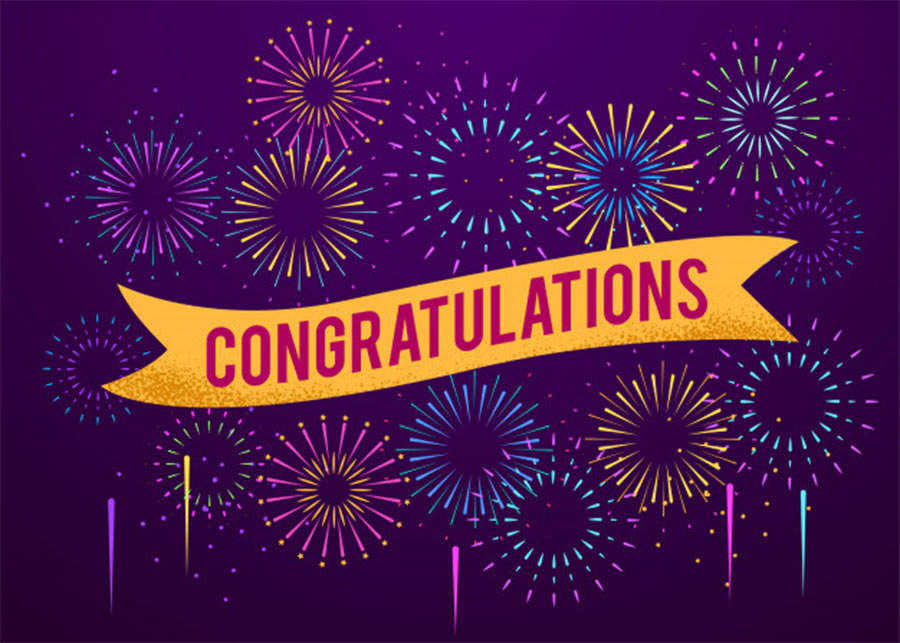 Graduation Card Messages
Congratulations, Granddaughter! Can't help but to reflect on all of the things that you bring to our lives happiness, pride, love, and a life filled with great moments.

Congratulations, Kindergarten Graduate! Up, up, and on your way to even greater success!

Congratulations, Graduate From Your Mother and Father We are happy just knowing that you're greatest hopes and dreams are happening for you. Our hearts are overjoyed and we know that your life is still full of promise. We love you!

I know school was your second resort when hitting the Powerball didn't pan out. But, you've done well anyway! Congratulations, Graduate!

I may have missed your day, but what's coming ahead won't be missed by any of us YOUR SWEET SUCCESS! Congratulations, Graduate!


There are so many words that I could use to describe you but I'll simply use two that seem the most appropriate today Phenomenal Graduate! Congratulations!

Teachers are workers, from day to night. They're working to help their students to get their material and those important life lessons right. They're working to improve them and to help them to grow. You're one of the best teachers that we have had the pleasure to know. Thanks!

You've taught me so much more than book knowledge. You've taught me life's knowledge. Thank you!

Our wish is that you have the greatest of all things the greatest success, greatest career, and the greatest future! Congratulations!

Congratulations On Your Graduation, Nephew! The pride that we feel watching you achieve your goals is a defining moment for all of us!


May God forever bless you, on graduation day and always!

May your memories follow you through life as you reflect on your accomplishments, your success, and your tomorrows. Congratulations, Graduate!

May happiness and success follow you throughout your life! Congratulations On Your Graduation!

You will face many challenges. When you do, never ever back down. You can be successful if you believe. I believe in you and I know that this is just the first of many successes to come! Congratulations, Graduate!

You have done exactly what you needed to do to make this dream come true. Now, the whole world is before you and waiting for you to make your mark. Congratulations On Your Graduation!

It's not just about who encouraged you. It's about you taking that encouragement and making it your reality. You did it and you deserve praise for your accomplishments! Congratulations On Your Graduation!

The pride that we are feeling right now can only be eclipsed by the love that we have felt for you always. Congratulations To A Special Grandson On His Graduation!

Congratulations, Son, On Your Graduation! Along with pride is a deep down happiness in my heart. May you continue to be successful in all that you do.


Feel the warmth of the day that's hugged with the feeling of accomplishment! Congratulations, Graduate!

Today begins the next chapter in your life's journey. It's the chapter that begins with you being a college grad! Congratulations!

May your tomorrow be filled with all of the wonderful things that have helped you to get where you are today faith, hope, and God's love! Congratulations, Graduate!

God's blessings be upon you as you graduate with knowledge and faith. Congratulations!

This is just the beginning of an even more magical life journey! Congratulations From All of Us!

You are wished the world and everything that's wonderful in it You are wished the stars and the sky. You are wished a lifetime of happiness and every great thing. These wishes can become your reality if you continue to try! Happy Graduation, Niece!

God had a plan for you and by holding on to Him, you've made that plan your reality! Congratulations and May God continue to bless you!

Congratulations, Niece, On Your Graduation! Tomorrow is going to be even more amazing because of what you've accomplished today!

To A Wonderful Young Woman On Her Graduation If you can dream it, you can achieve it! Congratulations!

My prayer is that God continues to lead and guide you. Congratulations, Graduate and God Bless!

The life that you lead is only limited by the dreams that you dream. Make wonderful things happen! Happy Graduation

It will all be worth it the hard work and sacrifice. Your success will go beyond today and into all of your tomorrows. Congratulations On Your Graduation!


Wishing you a graduation day that's as bright as your future! Congratulations!

May the happiness that you feel in your heart today be only eclipsed by the amazing successes that you will achieve. Congratulations, Graduate!

Today is the start of a lifetime of great success that will come your way. Congratulations, Graduate!

No one is probably more proud of you than we are except maybe YOU! Congratulations On Your Graduation!

You are the architect of your future and your dreams are the designs that you will help bring to life! Congratulations, Graduate!

Congratulations, Niece! Your future is extremely bright and you have such great promise within you. Life will be awesome each and every day!

Whatever is in your heart to do, let God make it happen for you. Congratulations on your graduation!

You mean more to people than you realize. For many, your success means hope for them and for what they can accomplish by following your great example. Congratulations On Your Graduation!

You are so worthy of praise for your accomplishment! Today, we celebrate you, Graduate!

You've gone from pretending to graduate to making it happen. It feels like it's only been a day or two, but I do realize it's been a whole lifetime in the making. You make us proud and today, we salute you! Congratulations, Daughter!

From our happy heart to yours CONGRATULATIONS ON YOUR GRADUATION!

Hard work paid off and now it's true, the newest, coolest graduate is Y-O-U! Congratulations!

The only thing left of the little boy that you were is a memory You've grown and you've accomplished what you set out to achieve. Hats off to you, Graduate!

One Two Three Four You're a grade higher than you were before! Congratulations, Preschool Graduate!

First grade is going to be awesome because you will be there! Congratulations On Your Kindergarten Graduation!

You took learning to one of the most fun levels ever! Thanks, Teacher!

It happened today, right before our eyes. You're a kindergarten graduate who's starting to rise! Happy Graduation!

Brainiac Yeah, I said it! Happy Grade School Graduation!

Of course, you've run into your share of ignoramuses get used to it. Apparently, they own all of the good companies out there! Congrats!

It's on now and the world is officially your oyster! Congratulations On Your Graduations!

Everybody wishes that they had someone in their family that had it all going on personality, brains, and beauty. You are so lucky to be in a family like this with all of us great ones! Congratulations On Your Graduation!

Success happened just for you your hard work and dedication helped to bring you through. Congratulations On Your Graduation, Niece!

May you enjoy the success at every turn in your life. You deserve, College Grad! Congratulations!

You have given my child an opportunity to explore life from a different perspective. Thank you so much for broadening my child's mind!

Be you and don't let anybody keep you from achieving your goal. It's worked so far, hasn't it?! Congratulations, Graduate!
Related Pages:
---