Graduation Card Messages. What to Write in a Graduation Card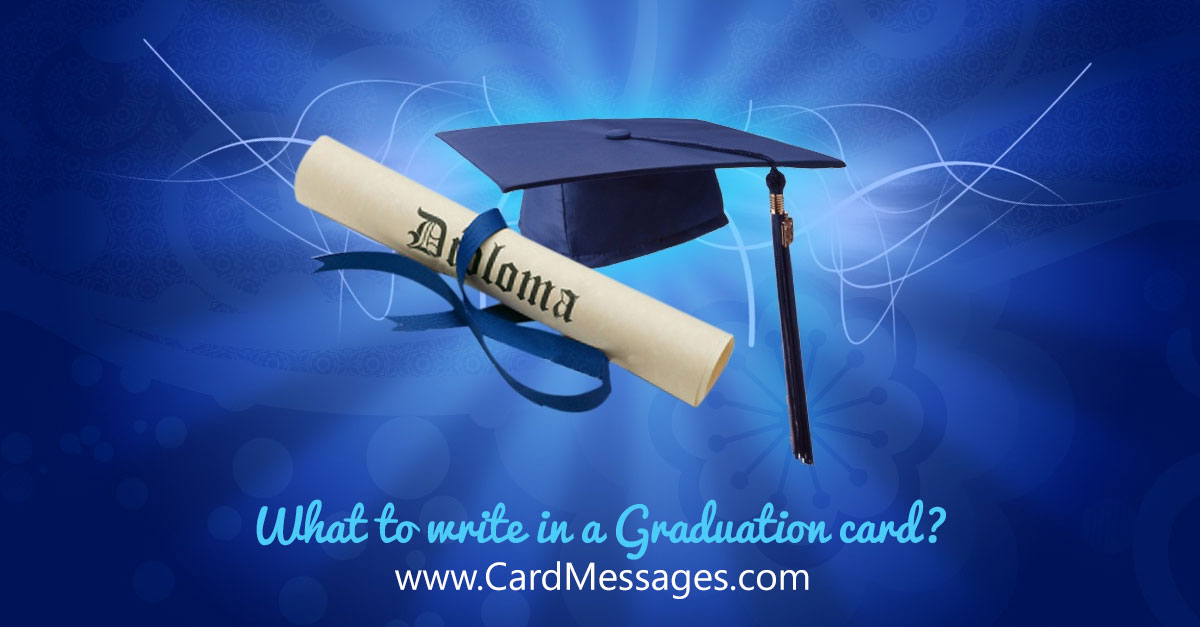 Graduation from kindergarten, grade school, high school, college, or technical school is a huge accomplishment for your graduate. It's important to recognize this terrific event with graduation wishes in a personalized graduation card. The graduation messages you write will make a positive impact on the young graduate and help boost their confidence. Any special graduation quotes you add to your graduation messages can help make the graduate smile and feel thankful to know you. So check out the messages and quotes here and send them a card today. We here at Card Messages wish you all the very best!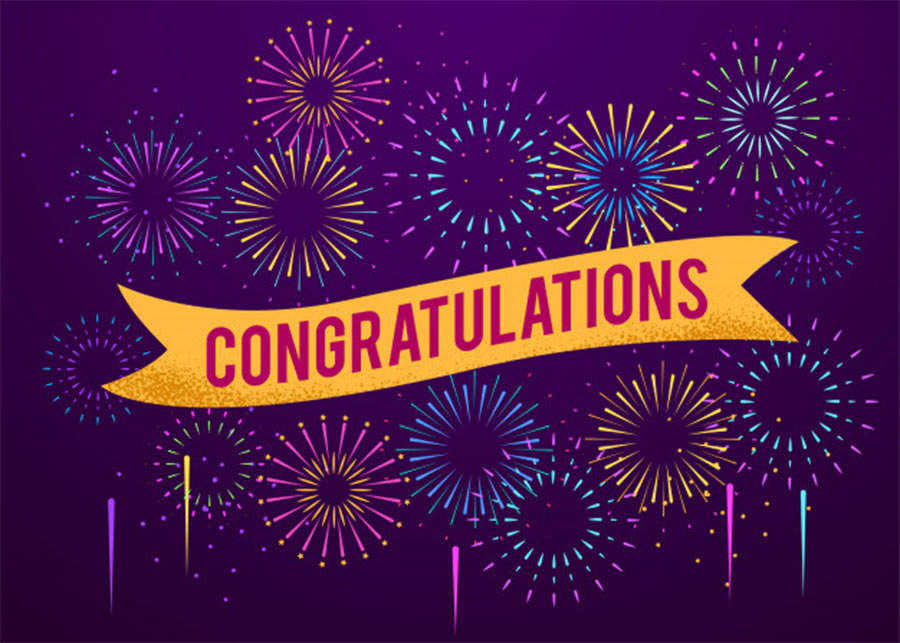 Graduation Card Messages
You've been promoted to a higher grade job well done! Congratulations!

You've got something great A diploma and a great future up ahead! Congratulations, Graduate!

What you give is priceless you give a little bit of you in all that you do! Thanks, Teacher

You've graduated from kindergarten! First grade here you come! Congratulations!

This is not like your daily recess break. Things like this don't just happen like that. They take time and a lot of work, and when they come they make everyone as happy as ever! Congratulations!

You have the potential to make a big difference in the lives of others starting today. Your accomplishment can help others realize that they, too, can be successful if they work hard and stay the course. Congratulations, Graduate!

Being a parent I have learned to really value teachers who go above and beyond like you! Thanks

What our granddaughter has accomplished is worthy of great praise and recognition. We are so proud of you CONGRATULATIONS!

You've done very, very, very, very well! We are super proud of you, too! Congratulations, Graduate!

It smells and feels so good That's how you know it's success!! Congratulations

Step-by-step, you've made this graduation journey a reality! You're definitely on your way to even greater things in life! Congratulations!

You've taken full advantage of the great learning opportunities of grade school. Junior high school be a breeze! Congratulations!

Things are definitely changing for the better now that you've graduated. Get yourself all changed and be dressed to have an awesome time! Let's Celebrate Your Graduation!

How does it feel to soar? You're doing a fantastic job at it! Congratulations!

School was great this year because I had you to share my experiences with and to learn from. Thank you for being an awesome teacher!

Congrats to you, Graduate! You have officially conquered middle school!

It's like a dream come true for us and you! Congratulations, Grandson! Happy Graduation!

There is so much more to you than meets the eye Your future will speak for itself! Congratulations On Your Graduation!

Fantastic times are going to come your way, and it's so cool that they start with today! Congratulations, Grade School Graduate!

Not everyone can be beautiful and intelligent. From where I'm sitting it's just me and you. Congratulations, Graduate!

You're shining bright because you're letting all of your potential come to the light! Congratulations On Your Graduation!

Hoping that you can actually enjoy your graduation for a while before the student loan collectors come calling! Congratulations!

Remember all of the times that you stressed over getting up to go to class well, now, you'll have that same feeling when it's time to go to work! As much as things change, they stay the same. Congrats!

Hoping that you get all the benefits of your hard work. It has to pay off! Congratulations, Graduate!

I've always known that you have beauty and brains. Thanks for confirming that for me, though. Congratulations, Graduate!

Is that the smell of success? No, just the smell of you after you've eaten all of those party foods. Congratulations, Graduate!

Who in the world knew that you would be an academic maverick? We did. That's who! Congratulations!

You've got it all brains, beauty, and now another accomplishment that tops it all off! Congratulations on your graduation!

It's time for a major celebration for your major graduation!

Kindergarten is for "big kids only"! You'll fit right in! Congratulations On Your Preschool Graduation!

Hip, Hip, Hooray! It's your graduation day! Congratulations, Graduate!

Tomorrow is the finale of the dreams from today. Happy Graduation!

This pomp is the great effect of a really cool circumstance! Congratulations!

You will only go higher and higher! Congratulations to a fantastic graduate!

Wishing you a cool summer and an even cooler high school experience. Congratulations, Middle School Graduate!

Success after success..that's my hope for your future. Congratulations, Graduate!

You have truly touched my life and you will never be forgotten. You are a teacher who truly cares and, for that, I'm grateful.

Getting those grades could not have been easy with all of the cramming like a crazy person and all. CONGRATS, GRAD!

People like you are just destined to succeed. You're proof of that! Congratulations, Graduate

I may have to look in outer space because earth definitely doesn't have any other teachers as cool as you!

Diploma, check. Cap, check. Gown, check. Pomp and Circumstance, check. Nothing left but the best part of all the graduate! Congrats To You!

Every moment should be savored it's GRADUATION DAY!! CONGRATS!!

You're graduating already? But, it feels like you just got to junior high! That's so awesome!

Our school wouldn't be nearly as wonderful without you! Thanks for being you!

You conquered it and now, you're a graduate! Congratulations, Son!

The ceremony might be over, but one thing that you will never forget about your graduation day is THE SLAMMING PARTY THAT WE'RE ABOUT TO HAVE!!! CONGRATS!!

You've learned so much in your kindergarten year. Now, you're going to learn even more next school year! Happy Kindergarten Graduation!

Diploma, bright future, big smile You've got them all! Congratulations!

You're going to make mad money. Of course, you may be mad sometimes as you're making it but it will all be worth it! Congrats, Grad!

Congratulations On Your Graduation! Oh, Snap! You did it and life will only get better from here on out!

Things must look different from on top! Congratulations, Graduate!

With faith, with grace, with God you can do all things! You've proven that today! Congratulations, Graduate

Every dream that you dream can become your reality if you just don't let them go! Congratulations on your graduation!

This graduation card is a freebie, so no need to worry about getting tested later! Happy Graduation!

Look into the bright life ahead..Greater success awaits! Congrats, Grad!
Related Pages:
---