Happy Anniversary Card Messages. What to Write in an Anniversary Card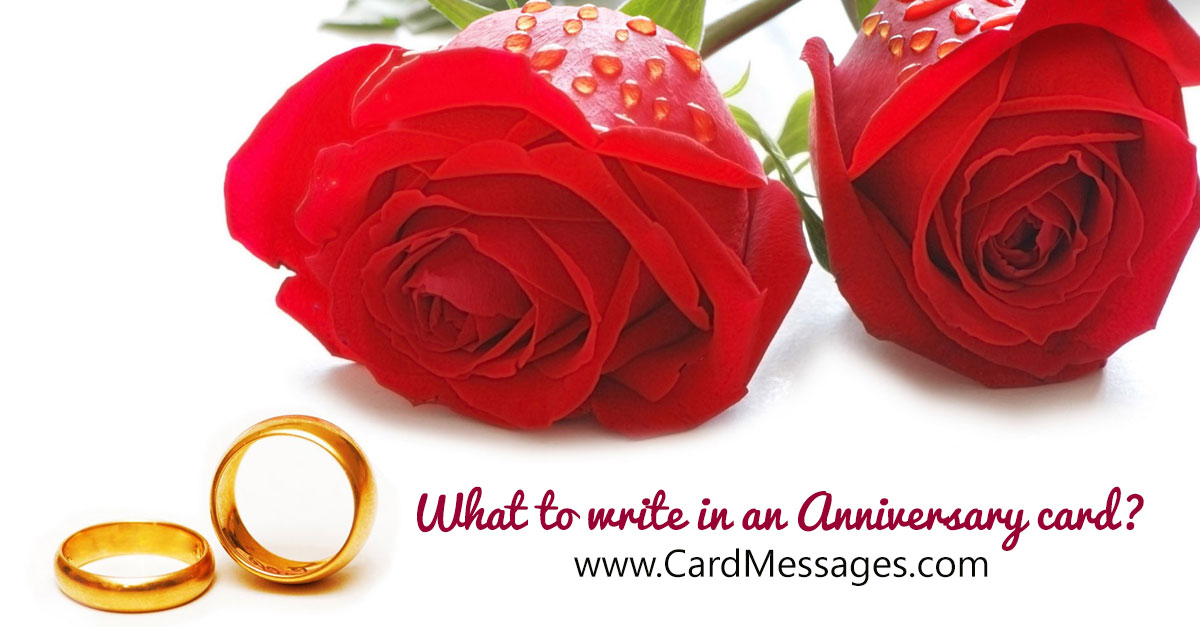 Wishing someone Happy Anniversary for their wedding, their job, or other events special to your friends, colleagues, and loved ones adds to your relationship with them. Passing along your Anniversary wishes makes them all feel special and flattered that you remembered their special day. Writing your Anniversary messages to them expresses your feelings about them and that you recognize how special they are in your life. The Anniversary quotes you include in your card to the happy couple will tell them your heartfelt thoughts and well wishes for their special day. We here at Card Messages wish you all the very best!
Anniversary Card Messages
It's known by all that true love never dies and that no matter who you are, the years will always fly by. So, it's only right that when it comes to those that marry, that two great people like you would be celebrating another anniversary! Happy Anniversary To You!

It's our honor to recognize what you have and to honor it with this celebration Happy Anniversary, Mom and Dad!

It's the celebration of the day that you said, "I do". It's the celebration of the day that we witnessed a legacy in the making happening between you two. Happy Anniversary!

It's time to celebrate 40 wonderful years that the two of you have spent building a life of love. Congratulations On Your 40th Anniversary!

It's true that the world has kept turning and that things have changed over time but our loves remains the same, real, and full of passion. Happy Anniversary To My Husband

Just like fine wine your love gets better and better with time! Happy Anniversary!

Just the roses in a beautiful garden, what we share keeps growing and blossoming with love. Happy Anniversary!

Let's celebrate This date is and will always be ours! Happy Anniversary, My Love

Life is great! I have you and we have a lifetime of memories to experience and relive. Happy Anniversary To My Amazing Wife With Love!

Marriage is looking good on the two of you! Happy First Anniversary!

May the joy of love and the beauty of witnessing it in another person fills your lives today and always. Happy Anniversary!

Never take your anniversary for granted and never count them simply by the years. Each anniversary brings with it a renewed sense of purpose, hope, and love. Congratulations on 50 Years of Wedded Bliss!

No matter whether you're holding each other for love's sake or just to keep each other warm, just let it flow! Happy Anniversary!

None like the two of you Happy Anniversary!

On your anniversary, try a new place one without characters, smiling trees, or sliding boards! Happy Anniversary!

Perfectly suited one for the other Happy Anniversary!

Somehow, we made it through our first 365 together .Only 365,000 more to go! Happy First Anniversary!

The family that has been created through your love has given all of our lives a greater meaning. Happy Anniversary, Mom and Dad!

There are these three little words that are both common yet personal overused yet not said enough ever-present yet sometimes needed in the worst way. I love you I knew you would know what I was talking about because we've lived those three words everyday! Happy Anniversary

There has been so much that you have experienced together in 25 years and that we have seen you go through. But through it all, the thing that seems to show through the most is the love that you have for each other! Happy 25th Anniversary!

They never gave me the option to pick who I wanted to be my mom and dad. But, if they had, I would definitely have picked the best ones ever Both of You! Happy Anniversary, Mom and Dad!

This day started a legacy that would take the two of you to make happen. Your love is still going and going, and I'm convinced that it's also still growing and growing. I love you! Happy Anniversary To My Parents!

To A Wonderful Couple On Their 10th Anniversary We can't think of anybody more deserving of a life of love and happiness than the two of you. Happy Anniversary!

To My Beautiful Wife Your life, your arms, and your well, you know Those are my absolute favorite

To the dynamic duo Happy Anniversary!

Traveling the world might make us happier, but will it cause us to fall even deeper in love? Yeah, I thought so too! Happy Anniversary anyway

We have such a great time making wonderful things meals crafts LOVE! Happy Anniversary!

We're wishing you the best, most wonderful, and happiest anniversary ever!

What makes the holidays even more special? Add in an anniversary! Hoping that your holiday season is a beautiful gift of happiness, peace, and love! Happy Holidays and Anniversary!

Wishing my dad and his wife a fantastic anniversary that is a reflection of your life and love.

Wishing you both a fantastic anniversary! You are the best son and daughter-in-law ever!

Wishing you joy and love on your anniversary. Happy Anniversary To My Mother and Her Husband

Without your love, there would be no me or us. Thanks!! Happy Anniversary, Mom and Dad!

Writing our own playbook together is what makes our relationship unique and totally about us! Happy Anniversary!

You and me and are perfect combination I'm glad that we are still so in love and that life is still so amazing. Happy Anniversary To My Husband!

You are everything that I've ever wanted in a woman. You are one of my most precious finds and I never want to lose you. Happy Anniversary To My Wife!

You both have the golden touch with each other 50 years! Happy Anniversary!

You have so much. I know because I'm the one who washes and takes care of it all!! Happy Anniversary To My Hubby!

You mean more to me than you'll ever know. Seeing how your love has defined our family gives me more reasons to smile and to beam with pride. Happy Anniversary To My Parents!

You're alpha I'm omega. I guess we're stuck together indefinitely! Isn't it great! Happy Anniversary!

You've brought so much to our family. We have loved watching your relationship grow and bloom. Now that you're married, we are as happy as we can be to have you both in our lives! Happy Anniversary To Our Son and "Daughter"!
---